Religious School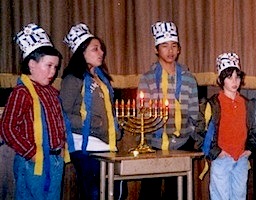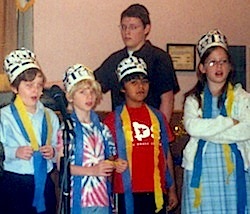 TWO YEARS FREE! (for children ages 5-10)
Religious School
VBI offers Hebrew school instruction from nursery school through Bar/Bat Mitzvah. The school is tuition free to children of synagogue members. Non-members pay a small fee. There is a $50 fee, per child, for books and supplies. All classes are taught on Sundays, 9:30A.M.-12:30 P.M.
The Hebrew school is run by Rabbi Janet Beiber, our Director of Education.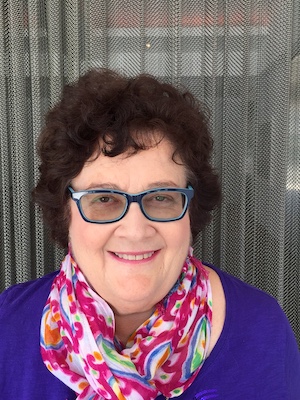 Rabbi Janet Bieber has served the Jewish Community as Director of Education, chaplain, Cantor and Rabbi. She was born and raised in South Los Angeles and came to her Judaism through her family and Southwest Temple Beth Torah in Gardena.
At The Jewish Home for the Aging of Encinitas and Rancho Bernardo, (San Diego area,) Rabbi provided 36 workshops a month and Services on Shabbat and Holidays to the over 300 residents. The workshop sessions included Yiddish stories and songs among many subjects. At Burbank Temple Emanu-El, she served as Director of Education. She will be officiating at the North Valley Jewish Community Association, of Phoenix, Arizona, for the fourth year in a row this High Holidays.
Rabbi Bieber is a teacher whose pleasure it is to engage with people to explore and find the Torah that exists within each of us. She holds two Masters degrees, one in Jewish Education and one in Hebrew Literature from AJU and AJR. Her Rabbinical degree is from AJR, same as our own Rabbi Goodman.
Rabbi Bieber enjoys sharing the beauty of Hebrew and our extensive and compelling culture and history. As a Rabbi and Cantor, she uses her voice in prayer and song to revive, reconnect and renew our community.
The children in each section learn together and support one another. In this way, they learn to respect each other, to work through problems and challenges together, and to treat each other as they would like to be treated. While formal education is stressed, there is also time for arts and crafts and music. Since all children learn at different rates and respond to different approaches, each child is taught at his/her level with much individual attention. In addition to Hebrew language instruction, children are taught the traditions of the holidays, prayers, and Bible stories. All children enrolled in the Hebrew school are required to help lead services on the second Friday night of the month for the family service in the main sanctuary.
Bar/Bat Mitzvah preparation involves a combination of Hebrew School, required attendance at services in the main sanctuary, and private tutoring on-site. Each child is evaluated and a Bar/Bat Mitzvah program is developed for him/her based on the individual abilities of the child. While we always look to inspire and build self-esteem, no child is asked to take on more than he/she can handle.
Nursery School & Kindergarten Class
We offer a 1 hour nursery/pre-K/Kindergarten program for children 3-6 years old. It is offered Sunday mornings from 9:30 to 10:30 conveniently at the same time as the Adult Education class . All parents are welcome to attend the adult education class as well. The syllabus for this fall will be Jewish Theology; what we believe about God, good and evil, what being a "chosen" people really means, and many other interesting topics.